Like millions of people, I receive millions of e-mails. Actually, this is getting to be almost literally true. My e-mail folders contain more than 275,000 messages. Like everyone, keeping on top of this is a priority in my daily workflow.
In essence, I try to maintain a Inbox Zero approach to managing this daily beating around the head. I don't quite make it usually, but I generally have fewer than 15 messages in my Inbox by the time I go to bed.
An important change I made in my daily routine some years ago was to abandon the rigmarole of pulling each e-mail message into an appropriate folder after dealing with it, on the basis that I could go back and find it later on. At some stage, the search power of my mail client (Apple Mail) became so good, that it was possible to very quickly and accurately find that message from six months ago from that person. That was all well-and-good, but the other big piece of the jigsaw was to reduce the mouse usage required to put each dealt-with message into my shiny new, all encompassing, Archive folder.
I think minimisation of mouse usage is key to an efficient daily workflow for keyboard warriors such as myself which is why I think launcher applications (such as the brilliant Launchbar) are critical. So, I needed to be able to get my selected e-mail message(s) into my Archive folder using the keyboard only. This is simply done with an add-on program for Apple Mail, Mail Act-On.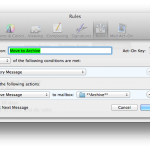 This extends the versatility of Mail's rules system and means that selected messages can be routed into an Archive folder (or indeed, many other actions) can be achieved with a selected keystroke; in my case this is control-A. I must use this more than a hundred times each day to the point where it is now an involuntary action for carefully storing old e-mails. It's great.