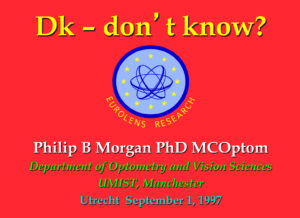 Bit of a funny one, this.  Over the years, I've bemoaned the fact that I've not been able to open PowerPoint files from the mid 1990s and earlier.  This has never really been critical; key slides continued to migrate into newer versions of presentations (now regrettably commonly termed slide decks in US corporate vernacular) and survive to this day like a well maintained classic car.
However, I am occasionally curious about files from that era but they do not open with current (or the previous two versions) of PowerPoint on my Mac.  (As an aside, PowerPoint on the Mac pre-dates its launch for Windows).  I think they are older than the  '1997-2003' file format which will still open today.
Every year or two, I explore this again but fail – until yesterday.
I have been preparing for a talk, given today in Utrecht at the Jaarbeurs conference complex, returning to a venue I came to a few times in the mid 1990s when Dutch optometry was developing quickly and there were lots of CET meetings and speaking invitations for those of us working in the contact lens area.
I found a presentation from September 1, 1997 which I gave at the same venue and thought it would be fun to look at the talk and see what it looked like (and include the opening slide in today's talk under the guise of 'I've been coming here a long time' sortathing).
After yet more Google searching on the topic, I fluked on some information which – remarkably – worked.  It turns out it's easy and requires the use of the Zamzar conversion site.  Here is the recipe:
Duplicate the file (for safety) and edit the suffix to .pps

Choose PPT (1997-2003) as the desired file format.

Download new file
Warning: this reveals the garish state of slide design in the 1990s when we were excited by colours on slides; or maybe that was just me.  I'm also not sure that the kerning is correct but I might not have the correct fonts any longer.
Proviso: this worked on a couple of files.  I didn't check not changing the suffix so variants on this approach might work.
Note 1: I have not used PowerPoint routinely for many years as I am a convert to Apple Keynote.
Note 2: AV guys at conference centres remain sniffy about Keynote files.
Note 3: Keynote export to PowerPoint is now excellent and almost perfect with the exception that start/end times of movie clips are not respected so you can always fall back on this as I had to today (see Note 2).
Note 4: Always have a PDF back up on a USB memory stick of a conference talk just in case.
Note 5: I still give a variant of Dk – don't know? today.