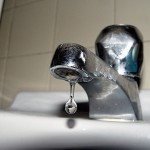 For ages, I've had an account with the 'If this, then that' web service.  Usually written as IFTTT and apparently pronounced to rhyme with 'gift', it's a site which offers an insight into the Internet of Things world which is just around the corner.  IFTTT allows you to access your accounts across more than 100 web services and and prepare short commands or recipes which sit and wait for something to happen in your web service X and when this is detected, something will change in web service Y.
All rather theoretical.
Well, suppose you have a Twitter and Facebook account.  After allowing IFTTT access into those accounts, you could set up a recipe such that when you change your profile photograph in Twitter, it changes the equivalent image on Facebook.  Or, you can patch into your Google Drive account and set up a recipe such that you maintain a list of your tweets in a Google Drive spreadsheet.  I have a recipe which means that if I save a tweet from my Twitter feed to the read-later service Pocket, it automatically creates a new note for me in my Evernote account, so I can review this information as part of my daily Evernote workflow.  This works well for me.  With over 100 channels and dozens of recipes per channel, the potential for this sort of service is approaching the limitless.
However, this is all rather geeky, so I am pleased to report a real-world example which really helped me recently.  Just before Christmas, we awoke to find that no water was coming into the house and a quick search on Twitter and our village page on Facebook found that others were reporting the same.  Quite soon, there was a page on the site of our water supplier, United Utilities, which acknowledged the problem and that it was under investigation.  It became apparent that this was quite a major fault and it was not going to be resolved quickly.
The duration of the fault has ramifications for family life that day.  If it was not fixed by the evening, this might mean going elsewhere for a shower, perhaps eating out etc., and it was going to be important to keep track of progress.  The normal method would be to keep an eye on the United Utilities site, but as it was clear that there was quite a bit of Twitter activity referring to the problem by our postcode area (BL6),  I could see a use for IFTTT.
I fired up the site and set myself up with the SMS channel. Once a test SMS had been sent to my phone for verification, I prepared a recipe which said that whenever a tweet appeared on Twitter with the terms 'BL6' and 'water', then the tweet should be sent via SMS to my phone.  Of course, I could have kept an eye on Twitter through the day, but I preferred this new active rather than passive approach.  It worked incredibly well.  I received about 10 messages through the day (both United Utilities reporting on progress and residents reporting their water supply still not working or having been reinstated) and it was clear that all would be sorted by the evening and the kids could have Dad's spag bol for the millionth time and we could all go to bed clean.  It was an excellent solution to a mundane problem and something which sets the scene for more exotic systems in the future which will no doubt see the kettle automatically switched on when we are detected getting off the commuter train home, or the car engine is started when the morning shower is finished.