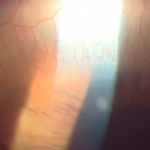 Understanding the inflammatory response of the cornea during contact lens wear is one of the remaining major challenges for researchers and the contact lens industry.  This lecture outlines the pathophysiology of inflammation and its relationship to contact lenses.  Relevant resources for this talk are shown below.
Manchester Collaborative Centre for Inflammation Research (MCCIR)
Is contact lens wear inflammatory?
Assessment of stromal keratocytes and tear film inflammatory mediators during extended wear of contact lenses.
In vivo confocal microscopic evaluation of langerhans cell density and distribution in the corneal epithelium of healthy volunteers and contact lens wearers.
Clinical characterization of corneal infiltrative events observed with soft contact lens wear.
Adverse events and discontinuations with rigid and soft hyper Dk contact lenses used for continuous wear.
Multicenter case-control study of the role of lens materials and care products on the development of corneal infiltrates.
Incidence of keratitis of varying severity among contact lens wearers.
Rethinking contact lens associated keratitis.
The size, location, and clinical severity of corneal infiltrative events associated with contact lens wear.
Contact lenses and other risk factors in microbial keratitis.
The Incidence of Contact Lens-Related Microbial Keratitis in Australia.
Risk factors for acanthamoeba keratitis in contact lens users: A case-control study.